I've written before about Pinterest plugins so I figure it's time to talk about Pinterest WordPress Themes.    Pinterest just gets hotter and hotter in the social media space.   Nowadays everyone is looking for a Pinterest style website.    Pinterest style sites can look especially good when you have clear direction for your site, ie it is organized appropriately and when some thought has gone into the images that will be uploaded.   The types of  Pinny clones that I tend to like are fashion related, photography, food blogs and video tutorials.     What style  do you like?
I've wandered around cyberspace this week "pinning" all my favorite Pinny style clones.     Yep, "Pinny" is my new word for Pinterest coz I can't be bothered typing it all the time 🙂
There are a ton of  Pinny clones out there,  some better than others like always 🙂     I've rounded up 25 of my faves from reputable and established theme designers for your pinning pleasure.   I have included one free theme but the majority are premium themes.
Phew!
This is just a selection of the themes available (more are probably being made by the little Pinny elves as we speak!)
Endless – Infinite Scrolling WordPress Theme, $45
http://themeforest.net/item/endless-infinite-scrolling-wordpress-theme/2085634
Features:
Infinite scrolling just like Pinterest

Lightweight 

3 Blog template styles to choose from

Includes 3 fully customizable retro badges

Custom Twitter widget 

Custom Category dropdown widget

Link color selector

Custom Slider and Custom Post Types

Templates for Contact Page  & Portfolio Template

Social networks enabled

Easy logo replacement
Brick & Mason Premium Photography and Blog Theme  $45
http://themeforest.net/item/brick-mason-premium-photography-and-blog-theme/245497
Features:
Google custom fonts library

Slideout sidebar

Infinite scrolling

Unlimited color options

Dark and light skin options

Easy logo customization

Full width page template included

Advanced jQuery animations and effects
FolioGrid Pro, $39
Features:
General settings area

Styling options

Social media

Sidebar manager

1 click installer to get going fast

Ads manager to monetize your site
The Style WordPress Theme, $39
http://www.elegantthemes.com/gallery/thestyle/
Possibly the cheapest of all the Premium themes because the Elegant Themes price allows you to download ALL their themes in the members area.
Features:
Enriched options panel: colorschemes; upload custom logo images, control featured posts and much more.

navigation panel 

The layouts tab  to adjust the structure of your site

The Ad Management panel 

Color Options Panel

SEO ready

The integration tab allows you to input code into various areas in the theme. 
Evolution 2 – 49 EUR/ download
http://superthemes.org/themes/evolutive/
Features:
Widget ready

Dynamic menu (up to two levels)

Fluid Ajax Grid
FacePress Community Content Sharing, $45
http://themeforest.net/item/facepress-community-content-sharing/1861805
This is my favorite Pinterest clone style WordPress theme.   It has loads of features and mimics a lot of the native Pinterest functions. I particularly like the color styles that it has.
Features:
Enable User following.   If you wish you can have an Author page with data showing posts from followed users, following users and a timeline ala Facebook
You can use the liquid full-width version or the fixed size layout.
Registered users can upload posts directly from front end.
Registered users can edit their  profile from their personal account page which has avatar upload, password change and other personal data
Unlimited number of custom posts and assign for them different features: papers, people, locations, portfolios, galleries, etc.
You can attach documents – great for demos and files to be downloaded
Map – suitable for locations markers,
Program builder – suitable for events and calendar,
login and registration forms
Enable the "Like" feature
Helious Grid Style Portfolio Creative Template, $40
http://themeforest.net/item/helious-grid-style-portfolio-creative-template/438263
Features:
2 Skins (Light & Dark)
You can upload your own font
Contact Form Manager.
Built-in SEO plugin
Grid base Portfolio page styles
7 Custom Widgets
Twitter feed
Maps
Flickr photostream
Full screen Image Gallery with uploader support multiple images uplaod
Styled typography and flexible page columns
Shortcodes
Style shortcodes ex. image frame, dropcap etc.
Blog template
Unlimited sidebar creation
PSD included
AutoFocus 2.0, $25
http://fthrwght.com/autofocus/
Features:
Flickr integration

Front page image crop editing

Optional portfolio style layout with square images

Clean typography and grid

A theme options page for easy customization of colors, post, formatting, etc.

Optional Featured Posts section for featuring posts and displaying them front and center

Widgetized sidebar areas

Support for Video and Gallery embedding via oEmbed

Custom short code styling 

2 additional & optional ad-spaces for banner and widgets

custom logo option

A per-post sliding Gallery of attachments option
Gridnik – Elite Portfolio WordPress Thene, $35
http://themeforest.net/item/gridnik-elite-portfolio-wordpress-theme/145673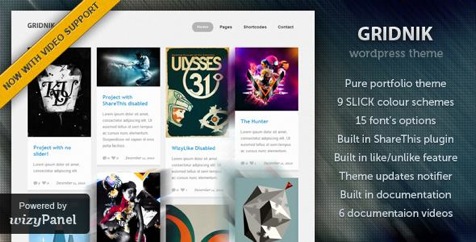 Features:
Flexible layout to fit any sreen size!
9 color schemes
15 font options via google fonts directory
20+ shortcodes including tabs, sliders, twitter, flickr and collapsible content
Built in tutorial documentation + 6 videos to get you started.
Ajax powered, working contact form
10 Custom widgets
Most liked projects
Individual galleries for projects
Import/Export theme settings for easy backup
Built in ShareThis Plugin
Built in  "like"  feature (facebook style)
Zoho – WordPress Grid Portfolio, $40
http://themeforest.net/item/zoho-wordpress-grid-portfolio/842485
Features:
Grid Foundation
Unlimited color schemes.
16 unique pattern options.
11  Page Templates
Demo Home Page with Excerpt
Templates including: Standard Page Template, Full Image Page Template, Mosaic Image Page Template, No Image Page Template, Contact Page Template, Full Width Page Template, Standard Single Page Template, Gallery Image Single Page Template, Mosaic Gallery Template, Archives Page Template
Suits Video & Images
5 Unique Blog Layouts;  Standard Blog Layout + Right Sidebar, Wide Image + Right Sidebar, Wide Image + Left Sidebar, Standard Blog + Left Sidebar, Small Images + Right Sidebar
3 Single Page Layouts
iShare Premium Media Plugin Included!
Twitter, Latest Post custom widgets.
Reflex – Dynamic Grid Portfolio + Blog Theme, $40
http://themes.mdnw.net/?theme=reflex
Features:
Theme Manager (built on OptionTree)
Filterable dynamic grid layout
9 Page templates.
Over 40 Font Replacement Options, including selections from Google Fonts API and Cufon.
Typekit, FontSquirrel, and Google Fonts support
The ability to change thumbnail and module sizes on the fly.
Lightboxes, galleries, slideshows, shortcodes
Shortcode library for columns, analytics, and more
Optional widget overlay area at the footer
Traditional blog templates
Video (YouTube, Vimeo, and more) supported in the lightbox and inside page templates.
Bookcase – WordPress Portfolio Theme, $40
http://www.designcirc.us/bookcase/

Features:
Interactive Portfolio
70+ Google Fonts
XML and SQL files included to load default content.
5 Featured Section Textures
Light and Dark Skins
5 custom WordPress widgets
Theme Options Panel
Fluid width layout
Custom Post Types, Custom Image Upload Fields
Contact and quote request form toggle
Unique features slider
Shortcode Buttons – one click and your done.
Child Theme Support
WordPress Grid Theme, $59
http://www.apptha.com/category/theme/wordpress/grid-theme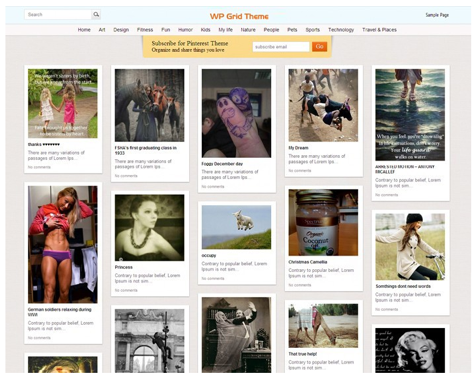 Features:
Tableless Design
Upload logo and images easily
Grid design layout
Featured image for post
 Loads content while scrolling – infinite scrollingUpload logo
Set infinite scroll
Gridlocked: Minimalistic WordPress Portfolio Theme, $50
http://themeforest.net/item/gridlocked-minimalistic-wordpress-portfolio-theme/245947

Features:
Grid-Based Design
Dark & Light Colour Schemes
Filterable Portfolio (can be used as homepage or site section)
Tumblr-style Blog (can be used as homepage or site section)
Post Format Support (Asides, Images, Galleries, Quotes, Links, Standard, Audio, Video)
Built-in "like" system
2 Custom Widgets (Twitter, Flickr)
Simple Theme Options
Page Templates (Archives, Full Width, jQuery Contact Form)
Custom Login Logo & Custom Default Gravatar Support
Shortcodes (Columns, Buttons, Toggles, Tabs, Alerts)
Layered PSDs
FlexFolio: Premium Portfolio Theme $35
http://themeforest.net/item/flexfolio-premium-portfolio-theme/1616168

Features:
Ajaxified pages
Filterable Portfolio
Minimalistic Style
Custom Theme Options
Video support: YouTube, Vimeo, etc.
3 Custom Skins: Dark, Light and Purple
Easy page layout changing for Portfolio items
PSD files
Shortcodes: Columns, Quotes, Toggles, Tabs, Lists, etc.
Easy customization
Custom Twitter widget
Lens Theme, $40
http://designerthemes.com/themes/lens/
Features:
3 Photo/Portfolio Layouts – masonry, masonry w/ title bar and mini thumb grid
3 Gallery Layouts – full screen, stacked and slide bar
Dark and Light Skins
Post Editor Extras (buttons, columns, callout boxes, tabs, & more)
Filterable Portfolio
Unlimited Photo/Portfolio Pages
Built-in AJAX Contact Form
Multiple Shortcodes
Theme Options Panel
Upload a Custom Logo, Favicon & Gravatar
4 Custom Widgets
7 Widget Areas
Pagination Navigation
Layered PSD Files
Construct Theme, $45
http://designerthemes.com/themes/construct/
Features:
Post Formats (Standard, Image, Gallery, Video)
Aligned Layout Option
Breadcrumbs Navigation
Numbered Pagination
Homepage Slider (homepage options)
Theme Options Panel
Upload a Custom Logo, Favicon & Comment Avatar
Filterable Showcase
Unlimited Color Schemes
Threaded Comments
Shortcodes & Editor Extras (sitemap, tabs, toggles, accordion, buttons and more)
Custom Latest Tweets Widget
Custom Search Widget
Layered PSD Files
Hoarder $50
http://themeforest.net/item/hoarder-responsive-wordpress-blog-theme/2919551
Features:
Multiple Homepage Layouts (3 Col, 2 Col + Sidebar, Blog Style)
Responsive Design
Color Control (via Color Picker)
4 Custom Widgets (Twitter, Flickr, Video, Ads)
Post Format Support (Image, Aside, Galleries, Standard, Quote, Link, Audio, Video)
Page Templates (Archives, Full Width, jQuery Contact Form)
Custom Admin Login Logo
PSD
Socialike Responsive Theme $40
Features:
Responsive design
5, 4 or 3 columns
Responsive lightbox
Social media pages (Twitter, Dribbble, Flickr, LinkedIn, SoundCloud, Lastfm)
Shortcode generator
Unlimited sidebars
Unlimited colors
27 background image options
font-face (28 heading/menu fonts)
SEO -friendly (Page titles with h1 tag, breadcrumbs, pagination, next and previous post/page links, related posts, clean semantics)
contact form
Social icons
Fotos  $40
Features:
Masonry or carousel layout
built in post formats (video, standard, quotes etc)
Organize images into galleries of categories
password protect galleries
Shortcodes
Blog templates
Custom widgets
Theme option panel
easily upload logo
Pinboard $39 (single licence) $59 (developer licence) $69 all themes
Features:
Multisite integration (users can signup and post).
Responsive layout
Auto stacking layout
Option to choose infinite scroll or numbered page navigation
Lightbox gallery
3 post layout options (small, medium, and large grid)
Custom welcome message
Recent comment list with commenter avatar on homepage
Custom header menu
Optional RSS and search form
Social media icons
4 footer widget columns
Custom footer text
Animated back to top button
7 theme skins
Child theme support
Vivo WordPress Theme $45
Features:
Responsive design
Filterable portfolio
Portfolio manager – add images or embed video
Different background on each page
unlimited colours
Display all portfolio items or just specific portfolio categories on a page
Theme Options
custom widgets
contact form
shortcodes
WordPress Post Format support
Page templates
PhotoLux WordPress Theme  $45
Features
Unlimited Sidebars – dynamic sidebar generation functionality
fullscreen image slideshow
font management
advanced styling buttons
unlimited gallery pages
black and white image effect for gallery (WoW!)
SEO fields
Easy page layout creation
Option to disable right click
Full width background image option –  globally  or you can set different ones to the different pages
Easy logo replacement
Separate portfolio section
AJAX contact form
Sociable Icons section in footer
Comments with reply functionality
PSD Files
A bonus widget included – Portfolio Posts Loader displaying the latest items in the sidebar with lightbox preview
Notebook WordPress Theme  $39 (for all themes with membership at Elegant Themes)
Features:
Theme options
shortcodes
Full width page
Page templates
Blog templates
Unlimited color schemes
Graphic Theme, FREE
Features:
Search Engine Optimized
grid layout
If you like this post  on Pinterest style themes head on over to the Pinboard closest to you and ………pin it!